Getting cool-water friendly walking shoes is one way of protecting your feet against either the hard and sharp surface objects in a body of water such as a river or the ocean as well as to protect your feet against wet sand and pavements when you are out of the water. A water friendly walking shoe is a great option for outdoor activities such as kayaking and fishing.
Here, you will discover the ideal water walking shoes for men that have been professionally designed to match your individual walking needs.
Ideally, they are ridge traversing, have high water resistance and excellent for walking especially on sand and muddy areas, trailing, trekking and any other long distance walking. Narrow shoes are not only undesirable to walk on in water areas but also poses a lot of discomfort to your feet.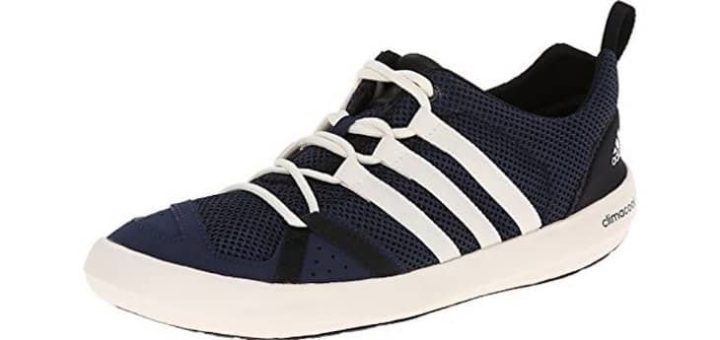 Water Walking Shoes
What is a Water Friendly Walking Shoe
A Water shoe or Water Friendly Walking shoe is a shoe that is typically used for activities in which your feet are going to get wet or where you are going to be walking in or through bodies of water. Water shoes normally have mesh uppers that dry easily and a hard sole to prevent cuts and abrasions or punctures from sharp rocky floors or zebra mussels and other dangerous objects in the ocean. The primary function of a water shoe is to keep your feet protected from sharp objects in the water and to prevent you from slipping on rocks and other slippery or wet surfaces. Water-friendly walking shoes are also a great option for a holiday or day at the beach as they keep your feet cool, dry and protected against the hot sand and pavement as well as preventing slipping.
Features of a Proper Water Walking Shoe
A thick and high traction outsole that provides excellent grip on wet and slippery surfaces as well as protection against cuts, abrasions and punctures.
lightweight construction and materials that will not weigh your feet down when you are walking in water.
A good drainage system as to release all excess water and prevent water from getting trapped in the shoe making it heavy and uncomfortable.
Lightweight mesh or easy drying materials used for the uppers so that the shoe remains lightweight underwater and dries very fast when you are out of the water.
EVA in the top sole or midsole to keep your feet comfortable and well cushioned against hard and protruding objects.
Durable and long-lasting construction and materials are used that can withstand water damage and other elements, as well as rough use.
Other comfort and support features for different requirements.
Different size and width options to suit every foot type.
Various color and design options for every preference and taste.
---
Top Rated Water Friendly Walking Shoe Reviews
Below are some of the best available Shoes for Walking in Water;

1
These water walking shoes offer a stretchable feel to the feet at an affordable price.
Its Traxion outsole puts these shoes ahead for best performance when walking in wet environments.

The Climacool Tooling construction improves breathability and comfort.

The Adidas drainage system and a well-designed EVA tongue top render these shoes the best.

You can find it in various multi-coloured options to choose from, depending on your taste and preference.

It is suitable for many activities such as hiking, swimming or even going out for a trip.

They get dry within the least time possible and are quite durable.

---
2
A durable and highly functional shoe for all your in water activities.
The Wave is a 'Water Walking Shoes' that is the top selling water walking shoes.

The shoes are very desirable for its distinct features. It is lightweight and waterproof.

A durable outsole that provides exceptional grip.

It is available in a variety of colors: Royal black, white red yellow and much more.

It is made of high-quality synthetic material. You can select your preferred size that fits you well

---
3
The Surf Walker from Speedo is an excellent Water shoe for surfing and activities ate the seaside.
A flexible pull on upper with mesh inserts for breathability.

The cushioned insole ensure exceptional impact protection.

A Trac outsole provides high traction and good grip.

The outsole streams water away from the shoe and enhances direct surface contact for better slip resistance.

---
4
These Protective Water Shoes from Starbay are the ultimate in comfort and water wear style.
It has a removable insole that adds up the comfort underneath your feet.

Extra thick, durable rubber in the sole for added protection.

It is lightweight thus never stressful to wear around for any outdoor activity that you need to undertake.

It is significantly built and is available at a reasonable price from Amazon.

It performs fairly well by protecting your feet from sharp rocks and other shell materials found in water.

---
5
Teva Men'sTanza Sandal has been designed specifically to perform for men in watery environments
It features Shoc Pad technology making it quite ideal to walk even on the river bed.

Its EVA top-sole has Micro ban zinc is created to offer top protection against bacterial infections.

Its midsole is cushioned to provide top comfy whenever you go out.

It makes walking on water, grass and sandy areas, safe and easy.

The manufacturer has given close attention to the comfort of the shoe.

Its rubber sole is molded for exceptional shock absorption. Great innovation featured in the design of these shoes make it perfect for outdoor performance.

Learn more on Teva Men's Sandals by clicking Here.

---
6
The Aleader Aqua Water Walking Shoe is a comfortable and durable lace up shoes that are quick drying.
Breathable and durable mesh uppers with a lightweight Solyte midsole for an excellent bounce back and comfort.

A water grip and cushion outsole for superior traction in wet and slippery conditions.

The ComforDry sock liner and arch supportive insole ensures only the best support and creates a cool and dry wearing environment.

The uppers mesh and hole in the sole ensures that these shoes dry extremely fast.

Available in different color options.

---
7
The Keen Newport with H2 technology is a fabulous and durable sandal for the outdoors in and out of the water.
A breathable leather lined H2 waterproof upper with bungee lacing that creates a snug and comfortable fit.

A metatomical footbed and KEEN toe protection for the ultimate in support and safety.

The durable rubber outsole ensures high traction and will prevent slipping.

Available in many different colors and size options.

---
Conclusion for this Review Article
The above-mentioned list of shoes is some of the best available shoes that are perfect for outdoor activities that include walking and standing in water as well as for visits to the beach or pool.
These shoes will provide the necessary protection as well as comfort and durability that is required of a good water shoe.
---
---