Runners who suffer from Plantar Fasciitis may have the painful symptoms for many years before the Plantar Fascia finally starts to heal. It can be quite difficult when trying to find shoes that eliminate the pain and symptoms of Plantar Fasciitis. Fortunately if taken care of well and soon Plantar Fasciitis can be reduced in a matter of a few weeks.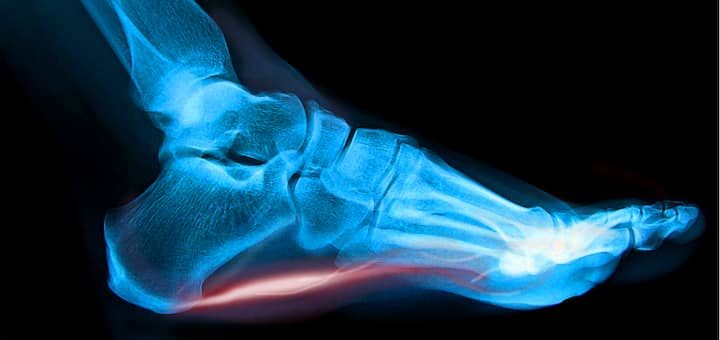 Comparison Table: Best Running Shoes Plantar Fasciitis
The Symptoms of Plantar Fasciitis
Plantar Fasciitis is one of the most common causes of heel pain. Plantar Fasciitis occurred when the tissue or ligaments called the Plantar Fascia which connects your heel bone to your toes becomes weak, swollen or inflamed. Most people feel pain in their heels usually when they first get on their feet In the morning or after sitting or lying down for a while. Standing for a long time of climbing stairs can also cause pain in your foot. The pain usually becomes worse as the day goes on but subsides in the evening when you are more relaxed.
---
Main Causes of Plantar Fasciitis
The primary cause of Plantar Fasciitis is because of strain to the ligament called the Plantar Fascia which also supports your arch. The repeated pressure causes pain and swelling.
People who pronate excessively who have high or low arches are more susceptible to Plantar Fasciitis.
If you suffer from tight Achilles tendons or calf muscles, you are also at risk for developing Plantar Fasciitis.
Those who live very active lifestyles and take part in sports or activities that have repetitive movements causing strain are likely to have Plantar Fasciitis.
If you are overweight the strain on your feet and arches because of the excess weight may also cause Plantar Fasciitis.
Lastly, the wrong shoes mainly running shoes have a significant role to play in the cause and further aggravation of Plantar Fasciitis.
---
How to Treat and Manage Plantar Fasciitis
There is not a single treatment for Plantar Fasciitis that will be effective for everyone. Therefore, you may need to try a few methods to find relief.
Cut back on activities that cause your feet pain and take a rest period.
Avoid running or walking on hard surfaces excessively.
You can use ice and over the counter medication to reduce pain and swelling.
Some stretching exercises such as toe stretches, calf stretches, and towel stretches first thing in the morning or before activities can also help.
Most importantly well fitting supportive shoes with a cushioned sole or heel cups that provide arch support should be worn especially for running.
Anatomy of a Good Plantar Fasciitis Running Shoe
The choice of running shoe for Plantar Fasciitis will depend on your foot type and stride, if you supinate or pronate and how high or low your arches are. For running where there is a lot of hard impacts on your feet strong arch support, cushioning and good shock absorption is a necessity.
The main features to look at are;
Strong heel support such as a heel cup.
Good Arch support.
Soft Cushioning.
Good Shock absorption.
In general these features work well for all foot types and strides with Plantar Fasciitis.
Top Running Shoes for Plantar Fasciitis Reviews
Here are some of the top rated running shoes that are designed to accommodate people who suffer from Plantar Fasciitis;

1
Running Shoe for Plantar Fasciitis
The Vionic Orthaheel is a motion control running shoe that is more suitable for people with low arches or flat feet and also has a deep heel cup which is particularly advantageous if you suffer from Plantar Fasciitis.

The full grain leather uppers are water-resistant as well as breathable with a moisture wicking mesh liner and PU foam base to reduce friction against the skin.

The built in Ortthaheel technology patented to the Vionic features a contoured motion-control footbed that provides excellent arch support and a deeper heel cup to keep the heel stable.

The Vionic Orthaheel Running shoe is designed to realign your stride for natural motion, and for maximum comfort and support.

---
2
Plantar Fascitis Running Shoe
The Asics gel equation eight is built for the neutral and under pronator that needs more enhanced cushioning and shock absorption.

The uppers are manufactured from breathable mesh with durable synthetic overlays to keep you dry and comfortable.

The plush tongue and collar ensure a comfortable and secure fit.

A removable foam insole and rearfoot gel cushioning system provides comfort, support and attenuates shock.

The Trusstic system reduces the overall weight of the sole unit while retaining structure and providing lightweight stability.

The Asics High Abrasion Rubber used on the outsole provide superior durability and traction.

---
3
Plantar Fasciitis Accommodative Running Shoes
The Asics Gel Kayano 22 is the latest in its range and features a modern design with new cutting edge comfort and support technology.

A sleek new fluid upper construction from synthetic materials and mesh for breathability and a better fit.

A re-engineered heel clutching system that provides stability and support to the heel.

The ComforDry sock liner that rests on the stable fluid ride platform provides, even more, comfort and cushioning.

A durable outsole provides excellent grip and traction.

The Asics Gel Kayano 22 is available in an enormous range of colors and designs to choose from.

---
4
Running Shoes for Plantar Fasciitis
For those low arches and overpronators, the new Balance Running shoe is designed to give you the best fit and greatest performance.

The synthetic uppers are breathable and comfortable for a lightweight fit.

A dual-density foam collar and supportive footbed provide comfort and shock absorption.

The Rollbar technology improves lateral and medial rearfoot stability and causes more natural movement.

The synthetic outsole provides excellent traction on hard surfaces.

---
5
Plantar Fasciitis Running Shoe
The Brooks Adrenaline will improve heel to toe transition and provide excellent comfort and dryness for prolonged wear.
The uppers are made from breathable mesh, and element linings help to wick away moisture and keep your feet cool and dry.

The adjustable saddle design provides targeted support and a better fit.

HPR Plus is used in high-wear areas for improved durability.

The Omega flex grooves allow more natural forefoot movement.

A durable rubber outsole provides exceptional grip.

The Brooks Adrenaline is available in many different colors.

---
6
The Sof Sole Plantar Fascia is an insole that can be used with your running shoes to provide adequate relief for the painful symptoms of Plantar Fasciitis.

The SofSole insole provides excellent arch support and has a deeper heel cup for better heel stability and fit.

This insole is flexible and ensures effective motion control that supports the arch and provides the correct alignment of the feet.

The SofSole Insole will provide excellent pain relief and it on our list of the best insoles for plantar fasciitis.

---
Running with Plantar Fasciitis
Many runners at some point find themselves experiencing Plantar Fasciitis to some extent. This can be caused by an increase in mileage, over pronation or even old and worn out shoes. Luckily the above-mentioned running shoes are designed to provide adequate support for the relief and prevention of Plantar Fasciitis.
---
---